MULTI-VANE TECHNOLOGY BY
DIRENZA
Patented MVT technology that increases airflow and performance.
MULTI VANE TECHNOLOGY
MVT stands for Multi Vane Technology. This revolutionary design enhances the efficiency of an intercooler by using vanes in the end tank to redirect air across a much larger area of an intercooler core. This leads to reduced intake temperatures and increased engine performance. But exactly how do we design our award-winning MVT intercoolers?
3D Scanning
The first step whenever we undertake a new MVT design project is to dissemble the front of the car. With the bumper and intercooler off, we can get to work using our sophisticated 3D scanning equipment.
WHAT MVT TECHNOLOGY DID TO OUR MK3 FOCUS RS
The Direnza MVT 'Multi Vane Technology' Intercooler Kit for the Ford Focus MK3 RS. significantly enhanced the efficiency of the intercooler, leading to reduced intake temperatures and ultimately, increased engine performance.
Fitted with our new Front Mount MVT Intercooler kit, our Ford Focus MK3 RS showed a power increase of 9.4bhp and 6.3lb/ft of torque on the dyno. Not only that, outlet temperatures were 8.4°C lower than standard as well as a pressure drop 0.62psi lower than stock - all of this was achieved without any engine remapping or other performance modification.
Our selection of
MULTI VANE TECHNOLOGY PRODUCTS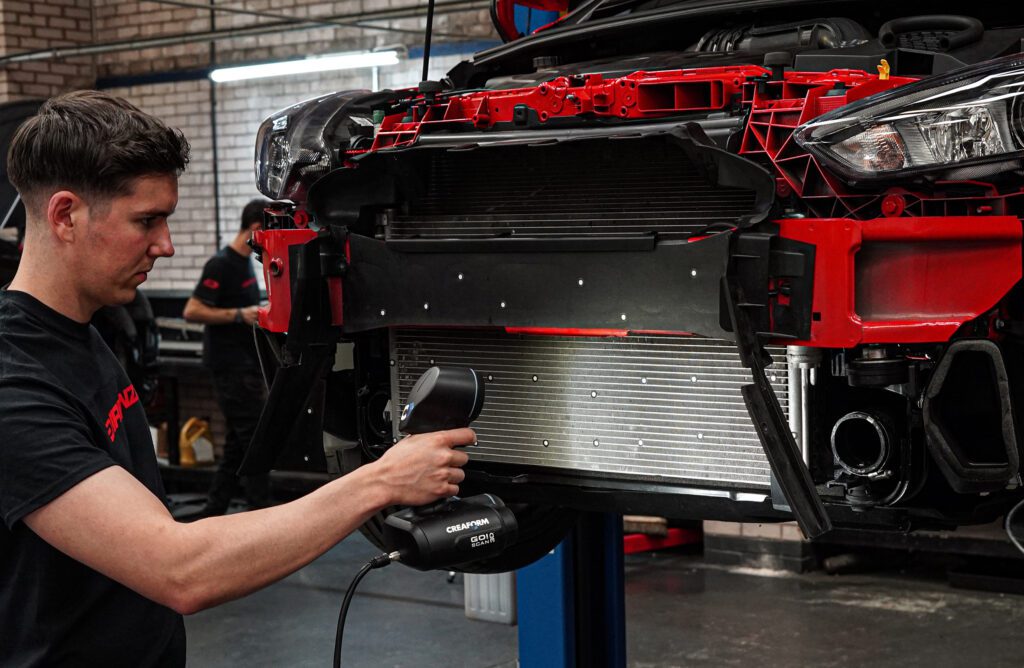 We begin by scanning all aspects of the OEM intercooler and the front of the car. These scans allow us to accurately measure how much space is available for a new intercooler. The scanner builds three-dimensional computer visuals that can be rotated and viewed from any angle.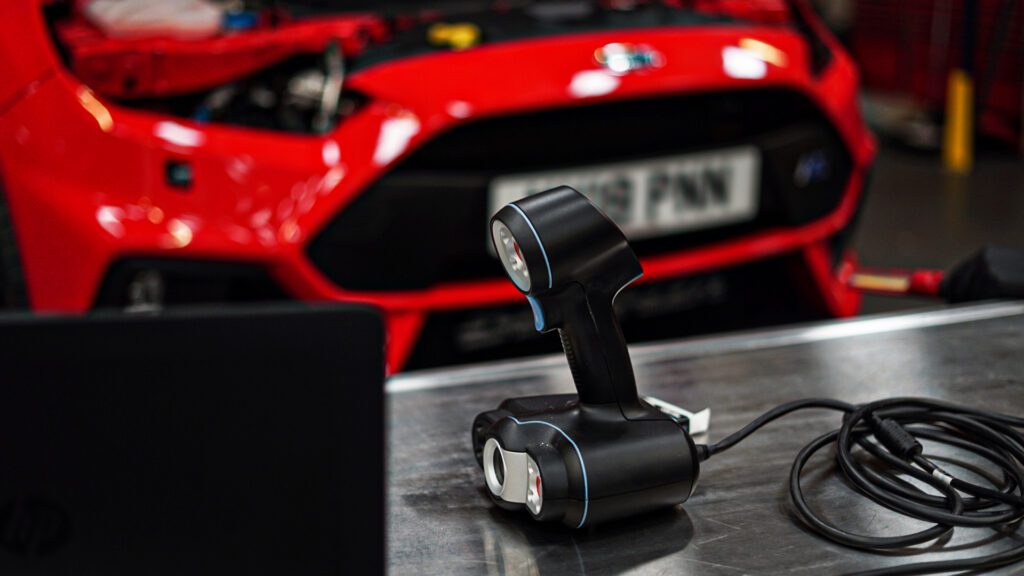 Computer-Aided Design (CAD)
Once we have completed the scans, we convert the files into a format compatible with our state-of-the-art CAD software. The scans are used as a base to build our own intercooler models. We do this to ensure accurate fitment, by matching OEM end tank positions and mounting points.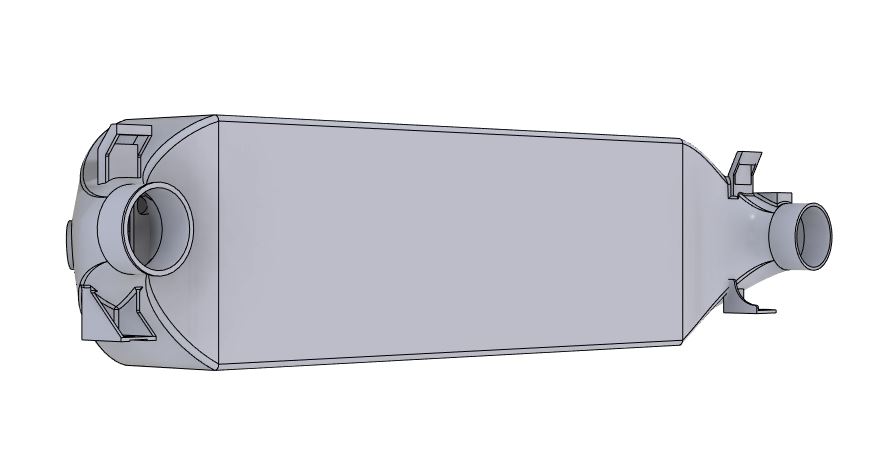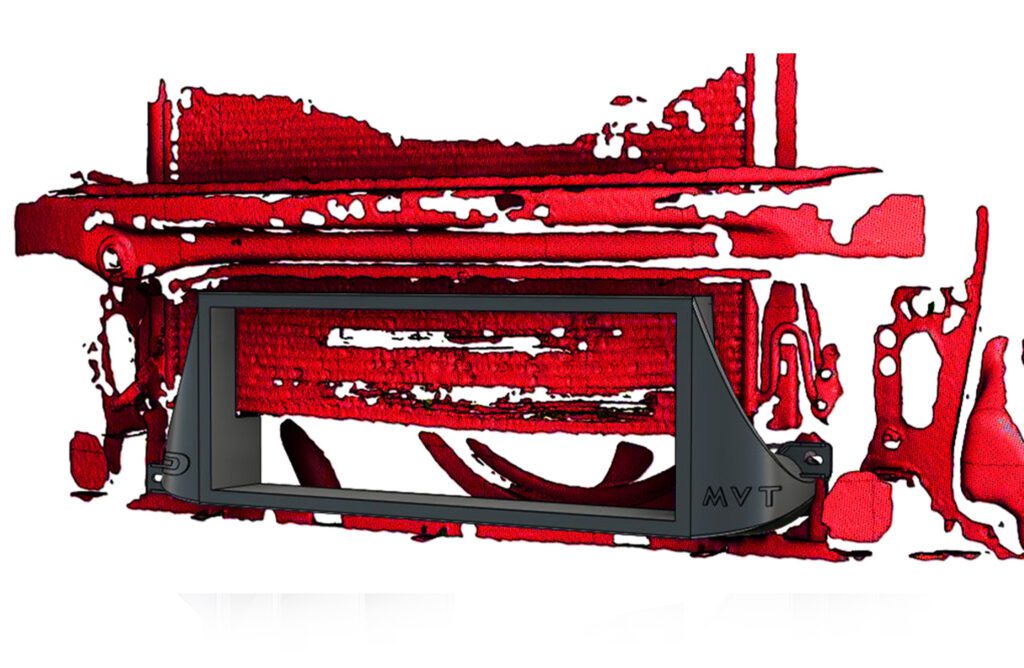 End tanks are individually designed to optimize size, flow and efficiency. The resulting model is overlaid onto the 3D scans we gathered earlier to double-check for clearance around the front of the car.
With the model built, we use CFD analysis to simulate airflow through the intercooler. We do this to check an intercooler's efficiency before we start designing our vanes (MVT).
With the aid of CFD simulations, we can design our vanes to maximize cooling efficiency, utilizing as much of the core's surface area as possible. We are also able to see how the smallest alterations can affect this. We repeat this process until each design meets our high standards.
 CFD analysis shows us the disadvantages of commonly used angled end tanks. The sharp angles result in the flow of air being restricted. This would ultimately result in an increased pressure drop across the intercooler and the turbo would be required to work harder to produce boost.
Direnza engineers instead use cast end tanks, which offer exceptional airflow characteristics. This is enhanced further with MVT, which distributes air evenly across the core, lowering intake temperatures and reducing pressure drop.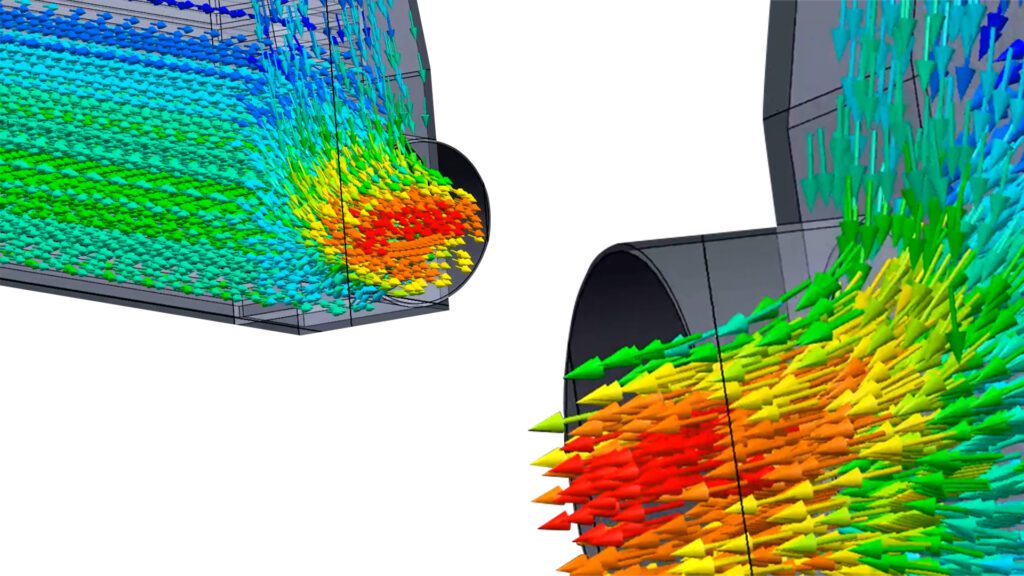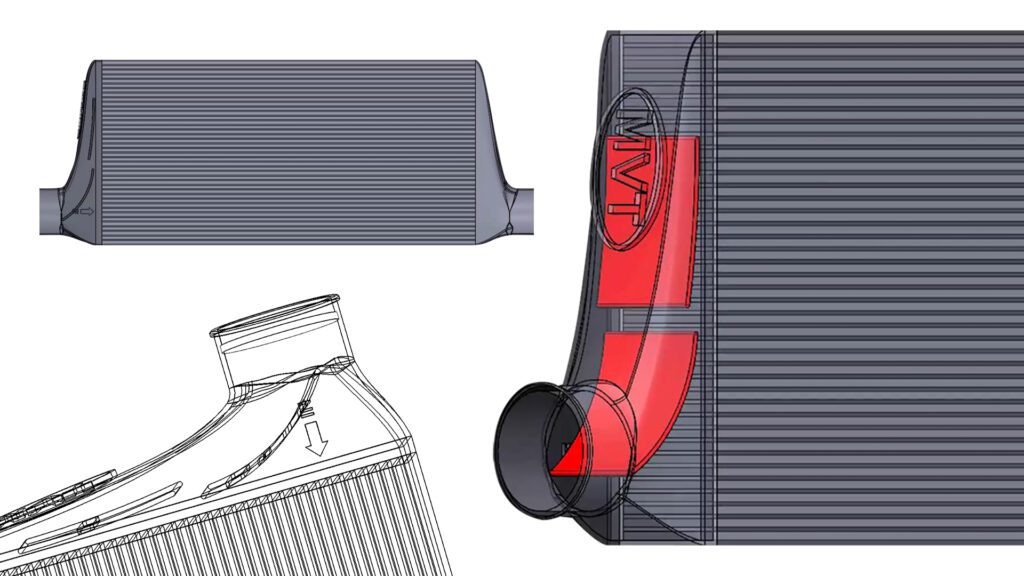 3D Printing & Test Fitting
After we have completed our CAD work, the model is printed in full scale on one of our 3D printers. An intercooler print generally takes a few days to complete. We can use this to test fitment on the car, noting down any adjustments required.
Once happy with the design, fitment and performance simulations a pre-production example can be manufactured and go through another stage of testing. This stage of testing will include fitment and real-world performance.
The main goal when developing our MVT Intercoolers is to improve cooling efficiency and ultimately reduce intake temperatures. Future proofing your project for any additional modifications.
The intercooler will go through hours of back-to-back testing on the dyno. Only then, if we are satisfied with the results of our tests will the intercooler be signed off for production.